On a mission to help consumers buy like experts.
Deciding what to buy can be daunting — navigating reviews, seeking guidance and facing a flood of choices. That's where ExpertVoice comes in: a platform where brands can engage industry experts, offering them education, exclusive incentives and firsthand experiences with their products. The outcome? A cycle of genuine brand advocacy, fueled by honest recommendations that empower consumers to buy with expertise.
Click here for more information:
Skibacs has partnered with ExpertVoice to bring discounts to our members
INSTRUCTIONS:
ExpertVoice
ExpertVoice invites SKIBACS members to join and get great discount from vendors. It is free to join and you save money from some great vendors. There is no cost to join.
Here is the information to join SKIBACS' ExpertVoice.
This will allow you to get discounts to various vendors like:
Pearl izumi
Mountain Hardware
Fox racing
Outdoor Research
Brooks
Oakley
Garmin
Merrel
Go to ExpertVoice.com: ExpertVoice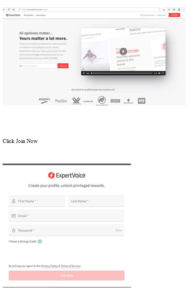 Fill in information – Do not select I have a Group Code.
It will ask you some preference questions,
Then ask for an affiliation:
Look for SKIBACS.
Choose that. I will get a notice and then will be able to approve you.
Click here for more information: ExpertVoice