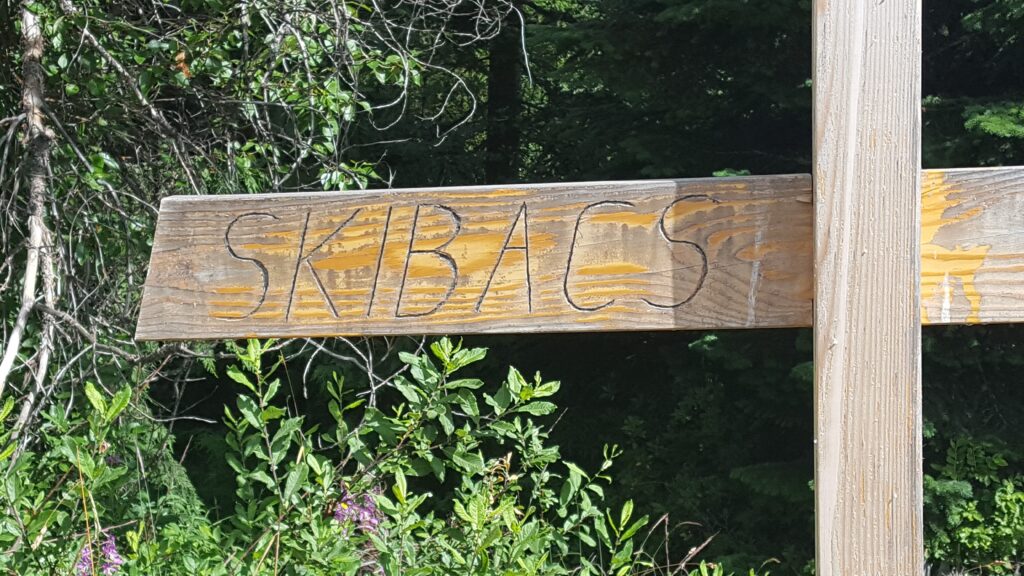 LETTER FROM THE PRESIDENT
Happy Summer SKIBACS Members!
For those signing up or renewing– FYI: anyone signing up for a SKIBACS membership now, your membership will be good until September 2023.
Trips announced for the 2022-2023 season!! Four locations are on the schedule for this year: Salt Lake City – Utah Dec. 26, 2022 – Jan. 1, 2023, Sun Peaks – BC Jan. 29 – Feb 4, Mt. Bachelor – Oregon. Feb 25 – Mar 2, Whistler – BC Mar. 25 – Apr 1.
Salt Lake City trip will be featuring resorts that accept the IKON full pass (Base Pass is blacked out during the holiday break). Order your IKON pass through SKIBACS and get an $80 discount. 
Ski Lessons will be announced shortly! We offer 6 week group classes for skiers and Snowboards of all abilities starting in January! Our Jetster classes are for 5 and 6 year old's, Youth classes 7 to 18 and adult classes 18 and older! We also offer private classes and household classes
(people in the same "POD"). Thursday night we have adults only classes. Friday night, Saturday morning, and Sunday morning and afternoon, we
have classes for all age groups.
Speaking of lessons – Have you ever wanted to be an instructor? SKIBACS offers training for new instructors starting in November with on-snow instruction starting in December. You do not have to be employed by the Boeing Company to be an instructor. We also have non-paid positions open for instructor assistants for the young skiers and snowboarders who just want to experience teaching under a certified instructor.
Our Ski lodge at Crystal Mountain is open for the summer for anyone to stay at while hiking, biking, horseback riding at the resort or just riding up the Gondola for some sightseeing and meals at the summit! 
Our receptionist (Kellie) will be switching to in-season hours starting September 15th.  Please reach out starting then M-F 10-3 (excluding Wednesdays).
Go to the our website for more information SKIBACS or contact me at President@skibacs.org
Skibacs' President – Dan Nebres 
Hi Skiers & Snowboarders,
The 2022-23 Trip List is out! This year will be filled with opportunities to find some of the best powder around!
SALT LAKE CITY, December 26th -January 1st
Don't miss out on the "Greatest Snow on Earth"! This ski trip presented by SKIBACS will have a base of operations in downtown Salt Lake, where 8 world class ski resorts reside within an hour drive or less. We will be basing our resort itinerary on IKON Pass resorts including: Alta, Snowbird, Brighton, Solitude, Deer Valley, & Snowbasin, With over 10,000 combined skiable acres & over 15,000 combined vertical feet at our fingertips. Within these choices lies the number one ranked intermediate resort and the number two ranked inbounds expert terrain in North America. There is something for every type of skier/rider on this trip. Dec. 26th and January 1st will be our dedicated travel days leaving 5 full days of skiing on the menu!
SUN PEAKS, January 29th – February 4th
Come ski Canada's second largest ski area! Near Kamloops, British Columbia, Sun Peaks offers nearly 4270 acres of skiable terrain with 2,894' vertical! There are two alpine bowls, 138 trails with 19 gladed areas (32% expert/ 58% intermediate/ 10% novice). Thirteen lifts include 3 high-speed quads, 4 quads & 6 surface lifts. Don't miss gliding among the trees on Mt. Morrisey, or skiing down "Five Mile Run", or flying down the 'groomed black-diamond of the day'. For snowboarders, there's a 10-acre terrain park with distinct zones for all abilities. And there are over 34km of groomed/track-set cross-country trails plus 19km of backcountry trails. Sun Peaks' Sun Hosts provide complimentary guided tours every day, and if you're lucky, your guide might be Nancy Green (Canada's Olympic ski champion who makes Sun Peaks her home). Sign up for "First Tracks" (includes meal) … or book a fondue dinner up top, followed by a starlight descent!
MT BACHELOR, February 25th -March 2nd
360 degrees of some of the best skiing in North America awaits! This ski trip presented by SKIBACS, will have a base of operations in Bend, OR. Mt. Bachelor has a skiable area of 4,323 acres & 3,365 vertical feet. Mt Bachelor's stand-alone geography has created a mountain that
has 360 degrees of skiing from it's peak. Within this playground of terrain lies some of the best tree skiing you'll ever experience, an incredible amount of off-piste options, a world class terrain park, & maintained runs for all ability levels!
WHISTLER BLACKCOMB, March 25th – April 1st
This is your opportunity to cross off this bucket list trip! This ski trip presented by SKIBACS, will have a base of operations in Whistler Village, Whistler, BC. Whistler Blackcomb has a combined skiable area of 8,171 acres & over 10k combined vertical feet! As well as some of the biggest skiing in North America, it also holds some of the finest Après and list of activities available. Whistler and
Blackcomb villages offer something for everyone, from the family skier, to the adventurous single, and everyone in between! We are extra excited to announce Cat Skiing will be available on one of the ski days!
Please e-mail our trip chairperson (Andrew Hackett) at HackettAndrewThomas@gmail.com or checkout our Trips Page on the SKIBACs webpage for more information.
SKIBACS Crystal Mountain Lodge
Greetings SKIBACS Member & Friends,
We hope your summer is going well you are enjoying getting back to doing all the fun summer things we love to do!  One of the must "do's" on your list is a trip up to Crystal Mountain and maybe an overnight at the SKIBACS Lodge.  The gondola is spinning away for glorious views and fantastic hiking, come take full advantage.  And how about an easy overnight at the lodge, no crowds, your own place to relax and enjoy the mountain air and scenery. 
Kevin, Hilary & crew have been very busy with repairs and maintenance at the work parties, we have two more scheduled we hope you can join us for one or both days.  A big shout out to Jeff & Greg Heinz for their efforts on the much-needed repairs with the men's bathroom upstairs & a build out for one of the new heat pump units to protect it from snow build up. Other projects that were completed:
Paint has been sorted and checked for status
Previous firewood restacked closer to the door
Heat pump protector has been completed
Roof has been resealed
Men's urinal has been resealed
Vacuum system has been repaired
Snow gates have been completed
The next 2 work parties (August 27-28, October 15-16) will focus on other projects to get ready for the season, come join us!
Plans for next year will be an update to the kitchen, removal of the existing stoves and replacing with 2 or 3 electric ranges, along with new kitchen & dining room flooring.  Other future projects will be to replace the deck, update men's shower, and new flooring throughout.  Yes, we want to improve and continue taking care of our lodge, especially with what Altera has planned for Crystal Mountain! Very impressive and exciting. New gondolas, lifts, more parking, on the hill hotel, new guest services building and more!  Stay tuned!
Enjoy these next few months of weather and gearing up for the season we all love! 
See you on the hill!
Wendy Welch
SKIBACS Lodge Administrator
wenskiwelch@gmail.com
2021-2022 BOARD OF DIRECTORS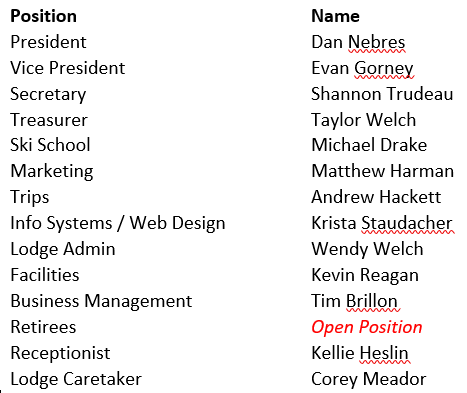 Board of Directors Candidates and Committee Members needed!!
Please submit your name and the board member position you would like to be considered for to info@skibacs.org.