LETTER FROM THE PRESIDENT
Message from your Skibacs' President – Dan Nebres
It looks like our membership renewal and signups are in full swing as is our signups for ski and snowboard lessons starting in January! We have been busy getting the lodge at Crystal Mountain ready for a new season and are really happy to announce new heating systems for the dining room and the lounge area. This should keep everyone nice and warm all winter as well as lower our heating bill.
I would like to announce a couple of new board members as well as a couple of volunteers who will help with improvements to the new website.
Krista Staudacher is the new Information Technology (IT) chairperson who will be updating the content of our website, solving technical issue as well as coordinating with our webmaster Tyler Barnes with any architectural changes that need to be done. Krista has developed and maintained her own website for her small business and also has helped other organizations with their sites such as the King County Master Gardeners and the King County Seed Library. Krista has two children, the oldest has learned to ski through the Skibacs Ski School and will be soon followed by her youngest who had signed up for lessons this year! She has already been tasked with several requests and looks forward to helping in her
new role.
Taylor Welch has accepted the position of Skibacs Treasurer. He has been working hard coordinating with our outgoing Treasurer to get all the accounts and financial systems moved over to him. Taylor has been involved in CMAC for 4 years as treasurer and President for the Meadowdale Golf and Country Club. He is also the husband of Wendy who is currently serving as the Crystal Mountain Lodge chairperson.
Rob Blakeley is a retired Boeing Software Engineer who is currently working for Northwest Resource Associates as a full time website developer (adoptuskids.org). Between that and two teenagers he is kept pretty busy, but still has some time to help us out. He is a long time Skibacs member who enjoys using the Crystal Mountain lodge during the winter.
Phil Carey has also retired from The Boeing Company and has volunteered to do testing on new updates of the website. Phil has spent many years working for Skibacs as an Instructor for both Alpine and Snowboarding. He also has assisted the club in other ways like designing the Covid-19 protocols last season.
We have the following positions open if you would like to volunteer as a board member. The current open positions:
Vice President




Ski Trip Chairperson

      Retiree Focal
By serving on the board you not only benefit from the ability to share in setting the course of the club's future direction but there is also a $600.00 remuneration that allows you to participate in the various clubs activities.
We have been busy making improvements on the website and Matt's been busy trying to contact those in Boeing that still don't realize that they have a ski club by posting in Social Media. Look for us in Facebook, Instagram and Twitter. Looking forward to a powder packed winter!
Thank you,
Dan
WE HAVE UPDATED OUR COVID-19 PROTOCOLS.  Please visit the individual pages for updated COVID-19 policies.
To support not-for-profit activities during COVID-19 difficulties, the 2021/2022 membership fess are increasing slightly. The new membership fees are listed below:
Individual Member: $32 (was $30)
Family Member: $41 (was $38)
Retiree Member: $24 (was $22)
In addition to the increased membership fees above, (non tax deductible) donations can be collected during the membership renewal process.  Thank you for your continued support!
2021/2022 SKI/SNOWBOARD LESSONS
2021/2022 Ski/Snowboard Lessons are now open! The club offers lessons in alpine skiing and snowboarding in the Puget Sound area at the Summit at Snoqualmie starting the week of Jan.8th and goes for 6 weeks, deadline for lesson signups is Dec. 31, 2021.
Referral Raffle!
The SKIBAC's instructors are gearing up for a great season! To spread the word, we are offering a referral raffle with top prizes including:
·

Two nights for two people at the SKIBACS lodge and 2 Crystal Mountain Lift tickets
·

A private Skibacs lesson at the Summit at Snoqualmie
The more referrals you get, the better your chance of winning! Check out https://www.skibacs.org/lessons/ for additional information!
We strongly encourage our students to buy season passes. After signing up for lessons, you will receive an email with information to purchase a season pass (which are currently sold out to the public). Please don't delay, as it takes time for the ski area to process and get them to you before the start of the lessons, and the availability will not be for an indefinite amount of time.

SKIBACS Ski School is a member PSIA/AASI School and is staffed by professional instructors. The school operates at Summit Central, part of The Summit at Snoqualmie ski area, on the Mount Baker-Snoqualmie & Wenatchee National Forest, as a concessionaire under a U.S. Forest Service permit to Ski Lifts, Inc. All programs are governed by SKIBACS. This program provides employment, services and privileges regardless of race, color, creed, sex, religion, age or national origin.

Sun Peaks Resort, BC
Sunday, Jan. 23 through Saturday, Jan. 29, 2022
This year we are limiting the trips to a single one to Sun Peaks, BC Canada (Jan. 23-29). We still have limited room for this trip. If you are interested, don't delay, sign up today at https://www.skibacs.org/trips/.
Come ski Canada's second largest ski area! Near Kamloops, British Columbia, Sun Peaks offers nearly 4270 acres of skiable terrain with
2,894 vertical! There are two alpine bowls, 138 trails with 19 gladed areas (32% expert/ 58% intermediate/ 10% novice) Thirteen lifts include 3
high speed quads , 4 quads & 6 surface lifts . Don t miss gliding among the trees on Mt. Morrisey, or skiing down Five Mile Run ", or flying down
the groomed black diamond of the day ''. For snowboarders , there s a 10 acre terrain park with distinct zones for all a bilities. And there are over
37 km of groomed/track set cross country trails plus 19 km of backcountry trails. Sun Peaks ' Sun Hosts provide complimentary guided tours
every day, and if you re lucky, your guide might be Nancy Green (Canada s Olympic ski champion who makes Sun Peaks her home). Sign up for
First Tracks " includes meal) … or book a fondue dinner up top, followed by a starlight descent!
Besides skiing, you can ride a snowmobile enjoy a snowshoe tour ( miles of clearly marked trails for all abilities ) … race your own team of
Alaska huskies … take a horse drawn sleigh ride … join everyone at the tube park (it s a blast, for all ages!) … ice skate at the new rink … take a
Snow Limo tour … rent a Ski Bike, Fat Bike or Segway … enjoy guided ice fishing … try heli skiing … or take a Cat Trax ride with the slope
groomers. Dozens of restaurants & lots of shopping in a pedestrian only village. There s also a shopping shuttle into Kamloops, or to watch a
Kamloops Blazers Hockey home game.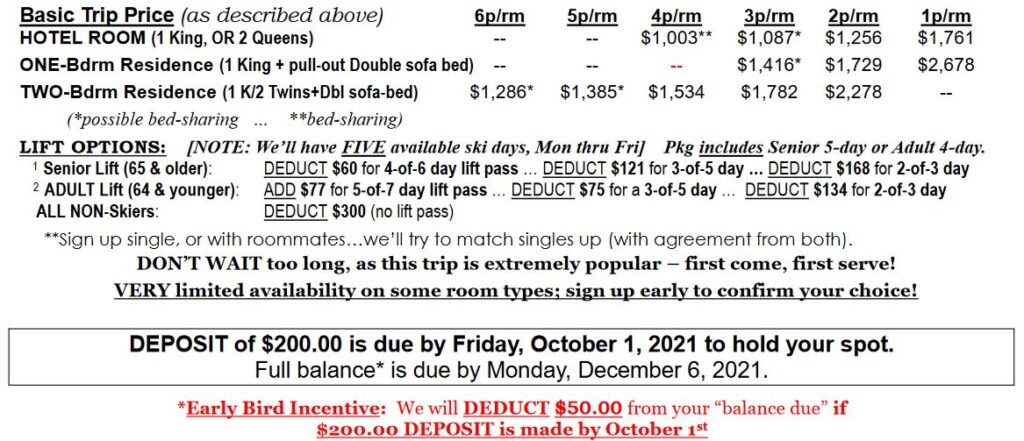 CRYSTAL MOUNTAIN SKIBACS LODGE
Greetings SKIBACS Members!
Winter is here and Crystal Mountain is open for business! It is time to get those skis, snowboards, and other snow sports equipment up to the mountain for some great turns!
HEAT! We have installed two Mitsubishi Ductless Heating/Cooling systems to keep you warm and toasty this season!
Online Lodge Reservations are up and ready for booking. New this year, we will NOT be restricting when you can book your reservation(s), you can book your stay further out. This will be helpful to those who need a dependable place to stay for instructing, ski & ride programs, patrolling and hosts. We do ask that you make sure to cancel in a timely manner, please be familiar with our cancellation policies.
COVID Policy & Protocols UPDATES:
Masks: should be worn in common areas when others are around. If no one is in the lodge and it is just you/family/guest, you do not need to wear one. This applies to everyone whether vaccinated or not for now.
Cooking will be allowed, please no complex meals. We are trying to minimize the time in the kitchen.
Lockers! You can renew and sign up for lockers through the website. If you are not planning to rent your current locker and have gear/items in it, please arrange with Corey to come up and remove items ASAP.
Crystal Mountain Lodge Work Parties:
Thank you to all our members who braved COVID masking requirements and joined us for the summer work parties! Accomplishments this summer included:
Repairing the caretaker's stairs

Building of new deck snow chute covers

Graveling the main entrance

Bracing of bunk beds in room 14

Repair of the vacuum system
And of course the never ending list of annual maintenance: light bulbs, vacuum system emptying, and window cleaning. Your participation is greatly appreciated as we enjoy the lodge this season!
Please feel free to contact Corey Meador, Caretaker (360) 280-0835 or Kellie, SKIBACS Receptionist, info@skibacs.org (206) 400-7542, or Wendy Welch (206) 550-8667. We are happy help you with any questions or if you need more information regarding the lodge.
Please visit the SKIBACS LODGE tab at www/skibacs/org/ski-lodge to review the most updated COVID procedures and Lodge policies.
Thank you!
Wendy Welch
SKIBACS Lodge Administrator
wenskiwelch@gmail.com
(206) 550-8667
2021-2022 BOARD OF DIRECTORS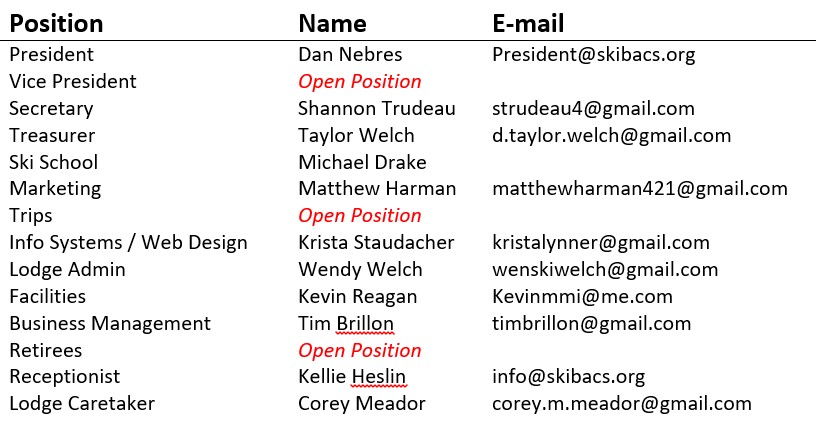 Board of Directors Candidates and Committee Members needed!!
Please submit your name and the board member position you would like to be considered for to info@skibacs.org.