ATTENTION!!! 2021-2022 LESSON INFORMATION COMING SOON. PLEASE CHECK BACK IN THE FALL.

*******************.
THIS INFORMATION IS FROM THE 2020-21 SEASON AND MAY CHANGE
SKIERS / SNOW BOARDERS
Continuing the SKIBACS tradition, we are pleased to offer you quality downhill skiing and snowboarding sessions starting in early January. Whether you are a "never-ever" or an expert, the SKIBACS School will strive to meet your needs.
LESSON Prices and what's included (and not included)
Our base multi-week prices start at $138 for our members (due to COVID-19 our average class size will be smaller this year). We continue to be one of the most competitive options you will find. Our staff is also one of the most experienced around. Although we have 'fun', we also take the 'Professional' in Professional Ski Instructor of America (PSIA) membership seriously. You will be coached in the latest standards in the sports (AASI for those of you on the snowboard side of things).
SKIBACS standard group session (ski or snowboard, Youths* and Adult classes) consist of weekly two-hour and 15 minute classes for six consecutive weeks on Thursday evenings, Friday evenings, Saturday mornings, Sunday mornings, and Sunday afternoons.
* Youth group lessons start at age 8 yrs. old (born before 12/31/2012) and must be L3 (able to ride the chairlift on their own and link turns on green terrain). For beginner Youth age 7+ please see our "Parent and Me" class description below.
For people working a 4×10 schedule, Thursday nights are a great deal…classes are usually smaller and are adults only. Less crowded, so you can ski/board more. Some even say the weather is better on Thursdays.
Saturday and Sunday afternoon Private Lessons options will be available.

Minimum age of student is 7. Must be able to ride the chairlift on their own. Otherwise, lesson must be with a parent/guardian.
We will allow a guest to be add-on student to a private lesson where the primary student is a member. Base Rate is $145 for members. Add-on students are $25/per student.
No private lessons for L1 of L2 snowboarders regardless of age. Only L3 – L6!

Due to COVID-19 the following programs are not being offered this season.

Jetsters and Jetrider
Our adult workshops: Women's Clinic and Sonic Boomers.
 New due to COVID-19
Wednesday Afternoon: There will be (2) three-week Household Group Lesson session from 3:00-5:30 PM (Due to COVID-19 restrictions, this is limited to members of the same household – maximum of 5). Cost is $490 for our members. This is not available for guests. Minimum age is 6 yrs old and a parent must be in the class.
An Alpine 3-pack Household Group Lesson sessions will are available on Friday Nights from 7:15-9:45 PM, Saturday and Sunday afternoons from 1-3:30 PM. Limit (1) pack  per member. (Due to COVID-19 restrictions, this is limited to members of the same household – maximum of 5). Cost is $490 for our members. This is not available for guests. Minimum age is 6 yrs old and a parent must be in the class.
Alpine "Parent and Me" class structure – Instructor guided class and with the parent/guardian directly assisting their child. Students Age 7 and up who are Level 1, Beginner/Never been on skies, and Level 2 novice who has only been on the chair a couple times. This class will be offered on Friday evenings, Saturday mornings, Sunday mornings and Sunday afternoons. Parent is required to be on skies to accompany their child on the chair lift. Cost is $195 per child for our members. (Class size limited to (3) children per class).
There are no Household nor Parent and Me snowboarding lessons for L1 and L2 this season.
Household semi-private snowboarding lessons is for those L3 – L6 only!
Restriction to (2) Guests for lessons per active membership.
Skiing and Snowboard Skill Level Chart
This will help you determine the right class to sign up for based on your level of ability.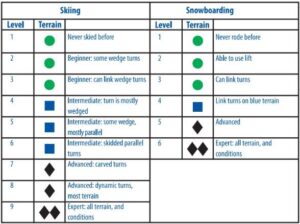 Day Tickets, Season Passes and Rentals
NOTE! Our prices are only for lessons, and they do not include lift ticket/season pass or equipment rental.
Daily Tickets:
Please note that The Summit at Snoqualmie will be limiting presales of online daily tickets and there will be no in-person sales of lift tickets.
Season Passes:
We strongly encourage our students to buy a season passes. After signing up for lessons, you will receive an email with information to purchase a season pass at a discounted rate which is only available for purchase through Mid-December. After that, the price goes up to full season pass rates. This discount is only available to our SKIBACS students. Deadline to purchase a discounted student season pass is Dec. 16th!
If you are an IKON pass holder, you must reserve a spot on the mountain for any given day. For more information visit The Summit at Snoqualmie website.
2021 Schedules
*"Parent & Me" session of for Youth 7+ yrs old who are L1 and L2 skiers. The parent must be prepared to ski with and assist with the hands on learning.
Rentals:
For rentals, there are many rental options around the area. We highly encourage you to purchase a 'Rental for the Season' package where you can take your skis home.  For more information about the rental packages available at The Summit at Snoqualmie visit their website.
Who is Eligible?
Lessons programs are oriented towards Boeing SKIBACS members, their families and guests. Members and immediate family pay member pricing for lessons. Visit our Membership page for more information.
Each active membership account will be able to sponsor (2) guests. Guests and their sponsoring member must both participate in lessons on the same day as your sponsoring member, not necessarily in the same class / discipline OR your sponsoring member must be on the mountain at the same day and time that you are taking lessons.
AVAILABILITY
Be sure to check availability, not all skill levels (ski/snowboard) are taught on all days.
Refund Policy
Refund Policy: If you should need to withdraw from lessons there is a pro-rated refund (less $46 handling fee for a member, or $56 fee if a guest) which may be obtained with written notification, effective as of business day (Monday-Friday) we receive notice.
DIRECTIONS
From Seattle/Metro Area: Take I-90 East to Exit 53. Follow signs for Summit Central.
From Cle Elum/Ellensburg/Spokane take I-90 West to Exit 53. Follow signs for Summit Central.
SKIBACS SKI SCHOOL LODGE 
Walk through Summit Central main plaza and head toward Triple 60 Chair.
We meet for lessons out front of the green building behind Triple 60 Chair.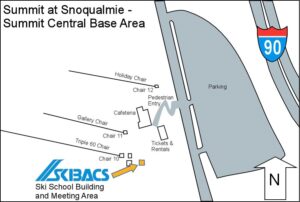 LOCATION
Summit Central, Snoqualmie Pass, WA 98045
Accreditation
SKIBACS Ski School is a member PSIA/AASI School and is staffed by professional instructors. The school operates at Summit Central, part of The Summit at Snoqualmie ski area, on the Mount Baker-Snoqualmie & Wenatchee National Forest, as a concessionaire under a U.S. Forest Service permit to Ski Lifts, Inc. All programs are governed by SKIBACS. This program provides employment, services and privileges regardless of race, color, creed, sex, religion, age or national origin.